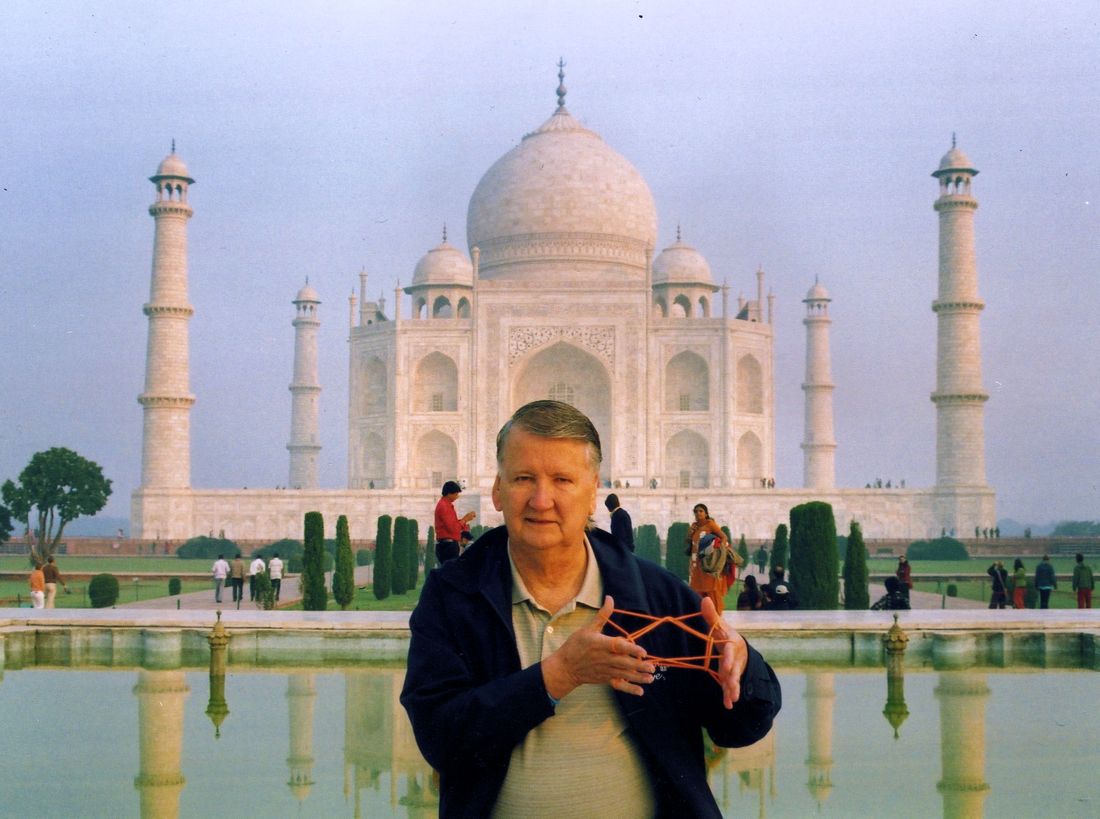 Germany, The Netherlands, Belgium and Kenya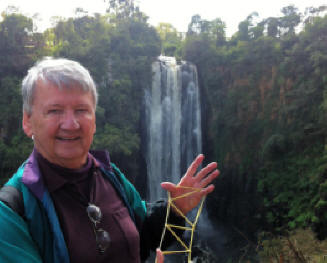 Since we are a team of people working together, I will talk about "our" mission trip. It can't happen without the garage sale monies and other fund raising events. Others who have given monetary gifts are a big part of this effort. The ones that take care of things at the church when I can't be there to help are also a part. And what about those who fed the fish, checked the house, watered the flowers and kept me informed of the goings on at home. Oh, I can't forget the prayer warriors; I rely on you so much. Let's also recognize all those hosting me everywhere. Therefore, "our" mission trip was amazing.
It started in Germany for six weeks working mostly with Methodist Churches, youth groups, Kid's Clubs and Wesley Scouts. I also presented for about 35 Chinese engineering students at a bible study, five church services and worked with a Methodist Chaplain in the US Army. A highlight was a weekend workshop with youth leaders from inside and outside the Methodist church. They really grasp the concept of String Ministries and want my new book to translate and print in German.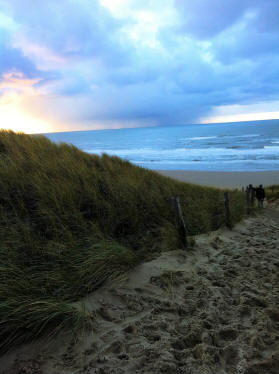 I am indebted to my friends Kevin and Carol Seckel who are missionaries to Germany. Their home was my base of operations in Frankfurt. I also got to stay with Mary Leonhart one night and we went to dinner and a play. I had a great visit with her.
I spent ten days in The Netherlands and Belgium giving a spiritual weekend retreat on the coast of The Netherlands and working with people in both countries. I also made some good connections for another trip. Altitude there is below sea level.
God works in mysterious ways and I ended up in Kenya, East Africa for an additional ten days on my way home. "It is kind of on the way home." When I was in Nairobi I stayed in the Seventh Day Adventist guest house. It is so good to have safe and reasonably priced places to stay in some of these countries. Nairobi altitude is one mile.
I worked with some groups in Nairobi and then went north about three and a half hours to Nyahururu where I stayed in a L'Arche home. It is a home for mentally challenged adults where they live with full time volunteers. It is an amazing situation and there are about 150 such homes around the world. I had nice guest quarters and they were free since I was working with the folks there. One of the residents amazed her friends by showing me a new figure that I had not seen before.
Sometimes we sell people short.
About 20 minutes from there was Thompson's Falls. The river below the falls is where the elephants come to drink and the lake that is about 10 minutes above the falls is where I saw at least five hippos. I also saw baboons, zebra, Thompson's Gazelles, Dik Diks, and eland. Altitude is two miles. Walking was difficult…pant…pant.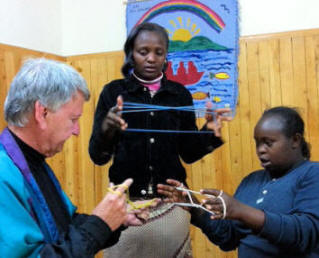 I also worked with kids in a home for the homeless. They can't have a garden because the monkeys from the forest come in and destroy it.
They were pleased to show me that they each had their own towel. (Are you appreciative that you have your own towel?) There was another drop-in center where new street kids come for 3 weeks to 3 months to learn how to get along together, eat with some manners, and generally become social beings.
There is a home for AID's orphans that had about 80 kids. They were so receptive to the string games. They were orphaned because of AID's and many of them also have the condition. I found out that was one reason each had their own towel.
In The Netherlands I stayed with a man who is a vegetarian…I am a carnivore. When I got to Kenya I found out that the Seventh Day Adventists are also vegetarians…and they do no coffee or tea. Culture shock. In Nyahururu the shelters, homes, and orphanage only serve meat once a week because they don't want the kids to get used to it.
Do I need to say that when I got home I have enjoyed meat? I have also enjoyed my car keys and the privacy of my own home. It was a great trip and I thank you all for helping make it happen but I am glad to be home for a while. - Dave Titus, December 2012


---
INDIA
I had a great time in India. I went with a Methodist "Volunteer in Mission" group. We were going to Webb Memorial Girls Hostel to deliver money for new bath area, toilets and clothes washing area. We were also to paint and do some repair to the school and see what else needed to be done with the money that was collected. This was the first mission to India and the team was to explore other areas that we might go for service, what were the needs in the region.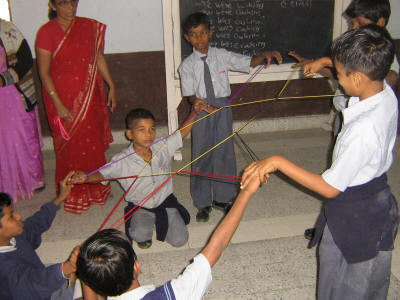 We left on Sunday, November 29th, traveled on the 30th, and arrived on the morning of December 1st. There were twelve of us and we drove from Moore, OK to Dallas, TX where we caught flights to London, then to Mumbai and then one to Vadodara, India. You might find it on your map as Baroda, the British name.
We spent the first day at Webb Memorial Girls Hostel seeing the new facilities we had made possible. They also had an official welcome with singing and dancing. I went to bed early to try to readjust to the time difference.
Wednesday I did strings with the girls at the hostel while the rest of the team painted. It was about 170 girls. They had a lot of fun with them and were very straight forward in their learning style. In some cultures it is polite not to react or to be very shy. These girls were not shy. Ama, a 3rd year seminary student that was working at the school was especially taken by the strings.
That evening the team was invited to the music and dancing portion of a Hindu wedding. About 500 guests were invited and it was in a rented outdoor park. The outfits of everyone were beautiful. The bride and groom were especially decked out in their finest. They had a buffet of Indian foods…hot and spicy.
Thursday I worked with the elementary boys and girls at Webb Memorial Elementary School which is on the grounds as the Hostel. The girls from the hostel were not bashful in showing that they already knew some of the things. I had big groups so I could get all 1,700 students that go to the elementary school and Webb Memorial Girls High School.
In the early evening we went to a Methodist boys' hostel and they did a program for us. I also did a string program for the boys and they were great. The District Superintendant was there and impressed with the strings and how they reach people, but more about that later.
Thursday night we went to the actual wedding. We didn't see the groom arrive at the brides' home on a white horse because that happened earlier in the morning. We also didn't see the bridal couple arrive by horse and ornate carriage at a different outdoor wedding park from the night before. There were about 1,500 guests for the wedding. A red carpet led into the grounds through a tunnel draped with fine Indian tapestries. It was very elegant.
They had a more elaborate buffet or series of buffets set up and as honored guests from the US, we were assigned about six wait staff to bring us tastes of everything. The final event of the wedding was for the couple to walk around the fire seven times. This was on a raised and covered area with waterfalls around it and much gold gilt. And we think weddings here in the US can cost a lot.
Friday we drove a couple of hours to the Methodist Mission Hospital in Nadiad and toured the facilities to see if we could send a team there sometime. We then drove another hour to a boy's hostel and an elementary school for boys and girls in Kathlal. They also put on a program of dancing and singing for us and I did a string program for them. They are really in the boonies and were excited to learn something new.
Friday evening we went to a Christmas program at the Methodist Technical Institute…on the same grounds as the Webb Hostel and school. It is really a big land area with 150 peacocks and a troupe of monkeys. The monkeys weigh about 60 pounds and are ruining the roof of the girl's hostel which is made of corrugated concrete.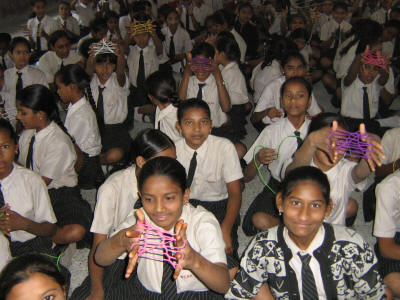 The boys at the technical school had made Christmas Cards for their sponsors and we were the judges for them. I also asked if I could do a series of programs for the students at the Institute but the schedule just did not work out. That is for the next trip.
The program was amazing with tribal dancing, tumbling, singing and fireworks. Of course the fireworks were set off in the middle of a crowd with no safety precautions. The energy and skill of these young adults was phenomenal. At all these programs we were the honored guests. It was not comfortable sitting on red velvet chairs in the front and being given flowers and gifts but to them it was a matter of prestige for them to show off guests from the US.
We were then taken out to the best hotel in town for a buffet of real meat…albeit goat meatballs and some foods without curry and hot peppers. I really enjoyed the meal. This was all part of their gaining prestige and I like it.
Saturday we worked with the girls, had some shopping time, and in the evening attended the Christmas program and dinner at Webb Hostel. Like the Technical school, they had rented a stage, lighting, sound and costumes. They save all year for this event. The girls were cute. They were more like a school program. We, of course, sat on the front row in red chairs and were brought on stage to receive flowers and gifts. After the program there was a buffet of basic traditional Indian food and dancing.
Sunday included an egg for breakfast and a combined church service for all three Methodist churches in the area. Rented canopy, chairs and sound system seated about 1,500 people for a church service with communion. It was on the grounds of the boy's hostel and school. Trish Malloy, out team leader gave the sermon. It was interesting seeing a woman on the stage with all the men. We, of course, sat in special chairs and were recognized with flower leis.
Sunday afternoon I rested and packed for our sightseeing trip to the North. I normally do not do much sightseeing on mission trips but this was scheduled and included a visit with the Methodists in the area to see how we could work with them in the future.
Monday was a travel day to Delhi and then transport by bus to Agra. We arrived at 8:30 in the evening. Tish talked with the chef and dinner was scheduled for 9:30 and it was ready at 10:30. Par for the course; everything in India is late.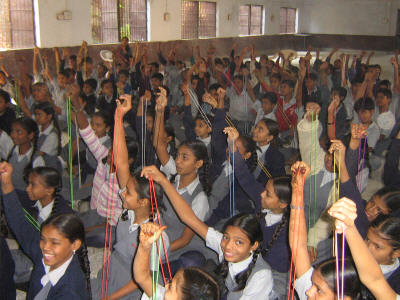 We got up at 5:00 to see the Taj Mahal at sunrise. It was everything I expected, just like the pictures. Built 400 years ago of a marble that does not absorb anything so it is as bright and shiny as the day it was built. The street vendors were very annoying but I needed to remember that they see us as very rich. And we are, by their standards. They are just trying to make a living.
After some shopping at a marble shop, we were on to see more sights. I was able to share string with our guide and some others gathered around. He was Hindu but accepted what I was saying readily. Our guide really got into the string. We visited a castle (they call it a fort) for a man who had three wives, one Hindu, one Moslem and one Christian. Each had their own area. It was very impressive. We then drove to Delhi and got in about 11:30 in the evening to eat dinner. It was served later, of course.
Wednesday was spent in Delhi seeing the Red Fort, Eternal flame for Gandhi, the Lotus Temple and India Gate; and of course some more shopping. I did not shop but went out and did strings with the drivers that were waiting. We were kicked out of one area because they thought we were stopping shoppers from entering. It is so much fun to engage adult men in the strings. One man came up and showed me that he knew about 5 figures; nothing new, but interesting to see that they have them in their culture.
India is a very spiritual country and 91% believe in a higher power. It was easy to talk about God to them and show them figures that had a message about God. I was able to say that we were Christians here to work with a girls' school and to share love. They had no problem with that.
Thursday we were at the airport early for a flight from Delhi to Ahemdabad to see where Gandhi lived for many years and had his Ashram or workshop for followers. I really was moved by reading of his work and beliefs. He was an amazing man who followed so much of what Christ was teaching. It is hard to say "Yes but…" to his teachings and still say that I follow Christ. I have such a long way to go.
We drove by bus through a lot of land and villages much like what I saw in Pakistan last year with tobacco, rice, bananas, peanuts, sugar cane, cucumbers and lots of cattle and water buffalo. We saw a few camel carts, ox carts and one working elephant.
We were back at Webb Memorial Girls Hostel to say our last goodbyes and pack for the final trip home. I was packing and someone called from downstairs that the girls wanted Dave, the Stringman. I went downstairs to find that some of them were ready to learn more string figures. I told them that I left three books and four videos for them to use. They were very happy with that prospect.
I had explained to the District Superintendant, Immanuel Kant that I was interested in returning to India next year and needed someone who could coordinate things there. I explained that I will take care of travel to the country but I expect the local churches to take care of feeding and lodging while I am at their village, school or church and to get me to the next place. He understood and said that he was willing to do the coordination for me. He seems like a person who gets things done.
The superintendant of the hostel and school, Aaylin, also was excited about the prospect of my returning and said she would do whatever was necessary to get me back. She also said that the girls look for projects to help make some money and they would love to make strings for me to use on my next trip. I would not be able to travel to India with enough strings for the numbers of people that they would have available for me to work with. I explained that I would pay for their work.
The tour agent had two 12 seat vans to pick us up when we arrived. They brought only one to take us back to the airport. They couldn't put the luggage on the roof because they forgot a rope to tie it on with. They ended up taking the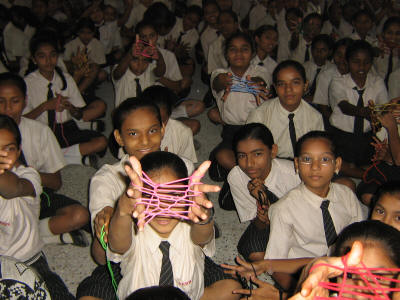 luggage and a couple of us to the airport to watch it. Some of the team came by private car and the rest came by taxi. We made it in time, but it was a mad hustle at the end.
On exiting the country we had to go through immigration. The team made it fine until it came to me. The agent saw that I had been in Pakistan and took my passport and me to his superior. They talked and finally they stamped a whole page of my passport opposite my multi entry visa and said that I was not welcome to return for at least two months. I would need special permission to do otherwise. I am not sure what it is all about.
We were able to check our luggage all the way through to Dallas…thank heaven. We had a couple of long layovers but that meant that we did not have to rush to any flight. I arrived home, safe and sound.
I thought that the trip was a success. I was able to work with a lot of children and adults in three areas of India. I made a lot of connections for returning. I was able to excite one young seminary student with the strings. She said that it was what she was looking for to use to spread the Gospel. I left her with a set of books and videos and some strings. God seems to provide one disciple on each trip that I make to carry on the work when I leave.
Dave